Principal's Desk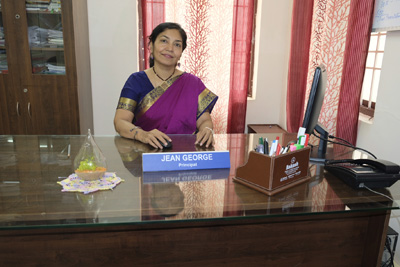 The journey of 2 decades of this institution has been absolutely momentous. As Rose Kennedy rightly said, " Life isn't a matter of milestones, but of moments." Indeed precious moments of joy and pride at every victory, moments of hope and joyous struggle and great perseverance even in the face of defeat.

I have been part of the leadership team at MGs for over a decade now. It has only given me sheer delight and pure joy to see every child grow and excel in their respective fields. I have also realized that all our children are exceptionally talented and unique. Indeed, they are uncut diamonds.

At MGSE, the emphasis is not on academic excellence alone, but on character, on developing individuals with a keen sense of empathy, compassion and kindness. Much significance is laid on being humane in this seemingly frenetic world.
We also encourage our children to move beyond mediocrity and excel as they pursue new interests and develop new hobbies and skills. The school offers a smorgasbord of activities which facilitates the holistic development of every child.
We are very proud of the MGSE family of parents, students and Staff. The indomitable spirit to move ahead, to soar high has been made possible by the tireless and dauntless striving of the teachers.
My prayer for our students is:
I want to teach my students how
To value life on earth-
To face its mountains and cross its oceans
And how to improve their worth.
Not just the lessons in a book,
But how to choose the proper path.
Wherever they may go- To understand eternal truth
And know right from wrong-
And appreciate nature's divine beauty.
May they know their creator and ever grow in
character and confidence.
And happiness of heart.

Warm Regards
Jean Samuel George