Academics
The school prepares students for the ICSE (Indian Certificate of Secondary Education) Examinations and ISC (Indian School Certificate) Examination conducted by the Council for the Indian School Certificate Examinations, New Delhi, for Class X and XII respectively. The School curriculum is designed to help each child to reach his/her full potential providing a wide general education, encouraging a spirit of co-operation and inculcating a sense of responsibility.

The School endeavors to inculcate in each child the pride of being an Indian and a love for the rich cultural heritage of India. Our aim is to inspire in our children respect for the national traditions, values and ideals.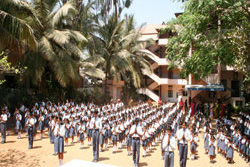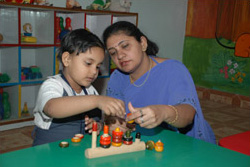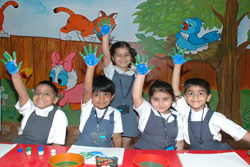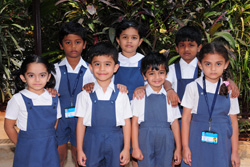 PRE PRIMARY
(PRE-NURSERY, LKG & UKG)
A time for little buds to blossom.

Kindergarten is their first step outside home. It is a place to explore, to find their own space and develop physical and social skills. Our faculty comprises NTT/Montessori trained, experienced, dedicated, creative and loving teachers who help stimulate the creativity and thinking skills of children and make education holistic and fun.

PRIMARY - (STD I TO STD V)
The joyful years, empowering every child to participate.

The focus of the curriculum is in developing language and Mathematical abilities and providing exposure to diverse means.

MIDDLE SCHOOL (STD VI TO VIII)
The eventful years, giving opportunities to express and excel.

Learning is more structured, specialized and intensive. Projects, presentation, group activities and excursions play an important role in facilitating independent thinking and better learning.

SECONDARY SCHOOL (STD IX TO X)
Time to prepare for the Examinations Ahead

The curriculum is designed to encourage students to be victorious and to get enlightened. Research, projects, presentations, group discussions and decision making skills are facilitated by the teachers.

Assessment
Students are assessed based on their performance in the monthly tests and terminal exams conducted. In addition to this, regular home assignments and projects are given. Parent teacher meetings are conducted periodically to keep the parents informed about their ward's progress.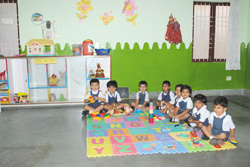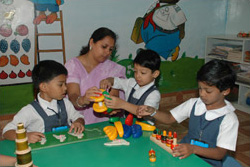 Field Trips and Excursions
Children discover best what they see. Regular field trips / excursions are organized, as a part of the curriculum, encouraging our children to meet other people, leading to social interaction.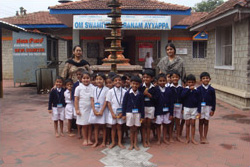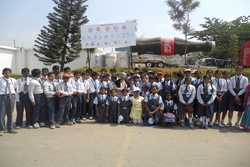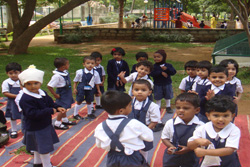 Green Day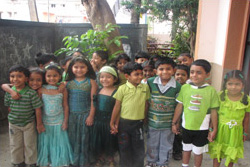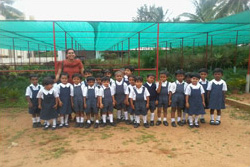 Tree Planting