Activities

SPORTS
Exercise for the mind needs to be complemented by exercise for the body. Here at MG School for Excellence, Physical Education is an integral part of the educational system. It aims at building a sound body, a sharp mind and a wholesome personality. It is essential for the cultivation of vitality, courage, self-confidence, team spirit, leadership, obedience, discipline and positive attitude towards life and the world. This also inculcates teal spirit and encourages the spirit of participation among our students. Sports and Physical Education aim to develop the total personality and make the student, a suitable leader for the future India.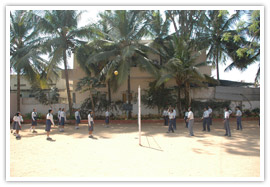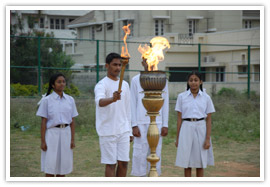 In addition, we also give specialized coaching in Yoga and Karate, providing our students the opportunity for all round development.
Annual Sports Meet
Annual sports meet is conducted in a befitting manner every year. Each and every student is given a chance to participate in Games, Athletic Events and P.T. Displays, thereby inculcating team spirit and encouraging the spirit of participation among our students.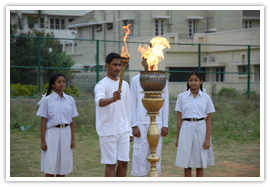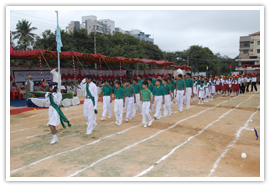 CO-CURRICULAR ACTIVITIES
At MG School for Excellence, we believe that in every child, there lies the imagination of Shakespeare, the genius of C.V.Raman and the courage of Alexander. To give vent to their self-expression, children at MG School for Excellence are encouraged to actively participate in co-curricular activities such as debates, quiz, dance, drama, painting, music and a lot more besides.

Dance and Music classes conducted by professionals are a part of the Curriculum. This not only gives the children an opportunity to recognize their talents but also contributes to the development of a well-balanced and integrated personality.

Annual School Day
Our Annual School Day is conducted with grandeur, wherein distinguished people from various fields, attend the display of cultural programme by our students.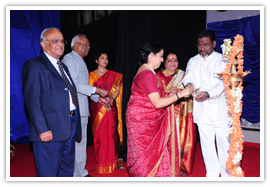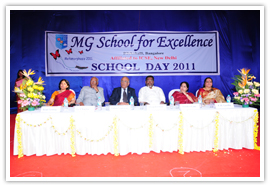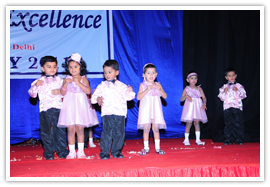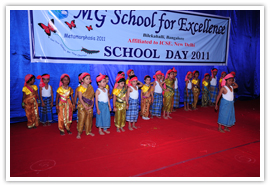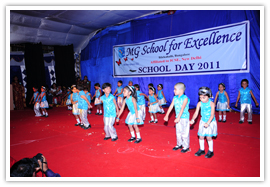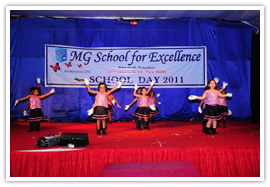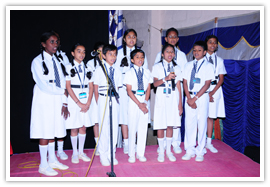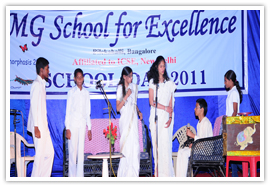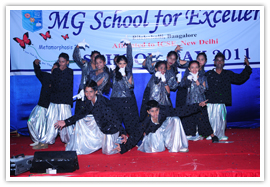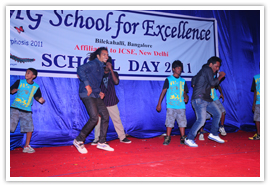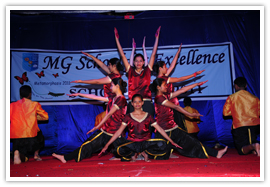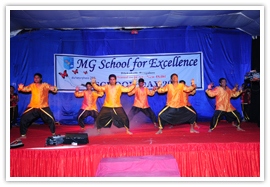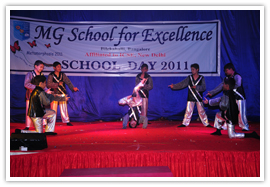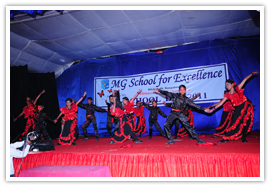 Public Speaking
We live in a world where the ability to communicate becomes more significant and one of the most effective ways of communicating, whether to inspire, inform or simply entertain, is by public speaking. Many people have opportunity to communicate in this way yet hesitate to do so because of inexperience or, most likely, nervousness. Our public speaking activity deals precisely, with students who are nervous, inexperienced and lack confidence and transforms them into confident orators ready to convince the audience on any subject.

First aid training for teachers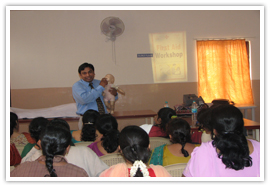 Fire Drill